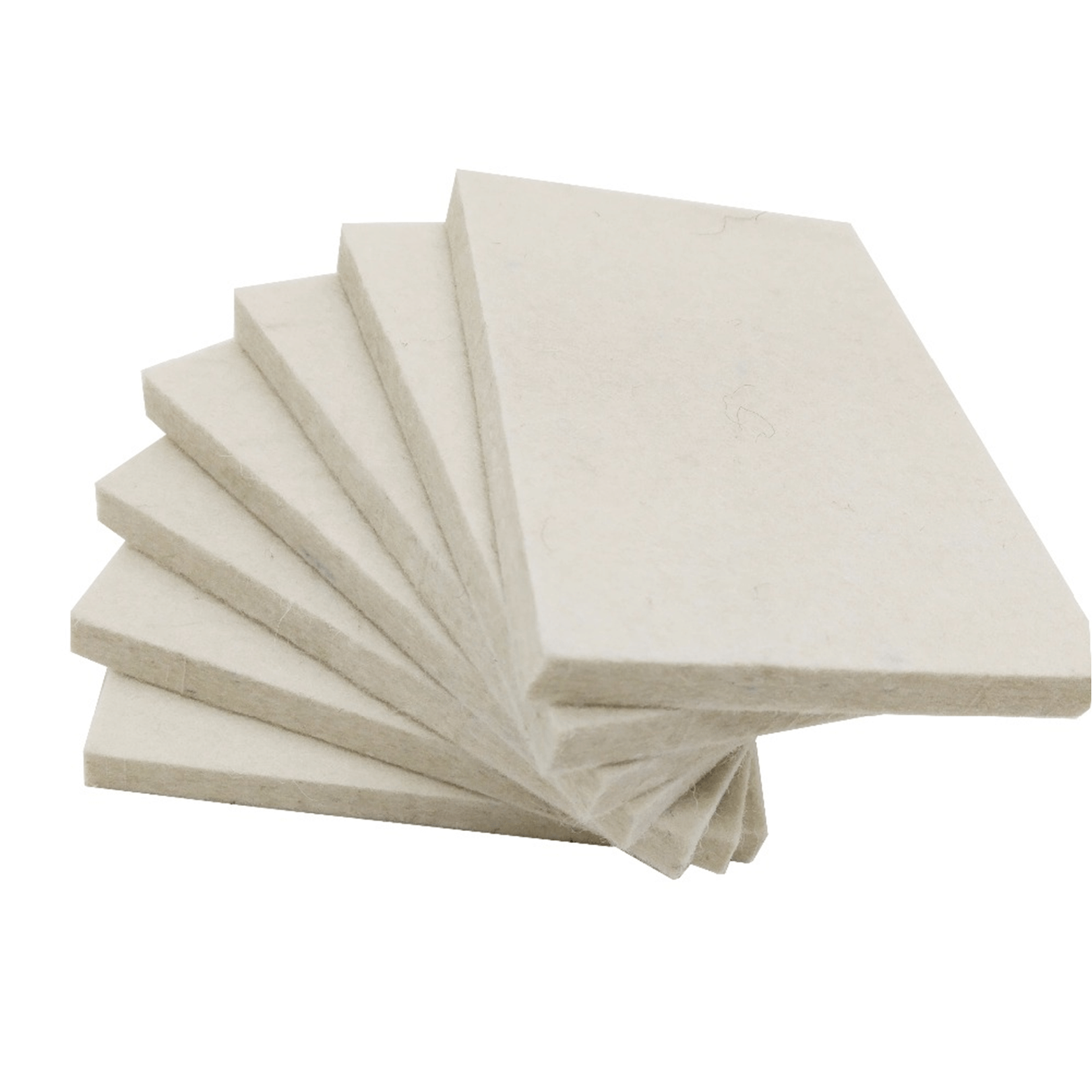 | | |
| --- | --- |
| Technics: | Wet Pressed |
| Material:   | 100% wool  |
| Thickness:   | 1mm to 30 mm |
| Materials:   | Tabore et dolore magna aliqua. Ut enim ad minim veniam, quis nostrud nisi ut aliquip ex ea commodo conse |
| Length & Width:   | As per Requirements |
| Density:   | 0.10-0.50 gm/cm3 |
| Finishing:   | Smooth |
| Tensile Strength:   | As per Requirements |
| Color:   | WHITE, OFFWHITE, LIGHT YELLOW |
Characteristics:
Excellent shock absorption
Highly absorbent
chemical-resistant, High elasticity, flame retardant.
Electrical Insulation
heat insulation, Wear-resistant,
Environmental protection material
Multiple Applications:
vibration reduction mountings, Dust shields, wipers, cleaning plugs, door bumpers, window channels, shock dampers, lubricators, grease retainers, ink pads, maple syrup filters, firm orthopedic pads
Washers, grease retaining washers, gaskets, compressible gaskets, bushings, bearing seals, wheels and pads, grommets, anti-vibration dampening pads, soft polishing blocks, .
boot liners and insoles, Equestrian saddle pads, fluid storage and delivery, resilient padding, acoustic panels, plug filters for gas and air, crate liners, ball and roller bearing oil retainer washers and small dust-excluding washers, bushings, liners, wicks/fluid transfer.
Drag pads for wiping steel & stainless steel and soft polishing blocks, wheels and pads,screen printing table pads, sound deadening chassis strips, spacers, filters, absorbers, sports equipment padding and sound absorption.